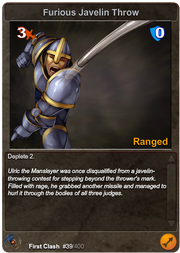 Furious Javelin Throw (First Clash, Legacy Card, #39) is a common Ranged weapon card with 3 attack and 0 defense.
Card Effect
Deplete 2.
Card Description
Ulric the Manslayer was once disqualified from a javelin-throwing for stepping beyond the thrower's mark. Filled with rage, he grabbed another missile and managed to hurl it through the bodies of all three judges.
How to Obtain
Ad blocker interference detected!
Wikia is a free-to-use site that makes money from advertising. We have a modified experience for viewers using ad blockers

Wikia is not accessible if you've made further modifications. Remove the custom ad blocker rule(s) and the page will load as expected.