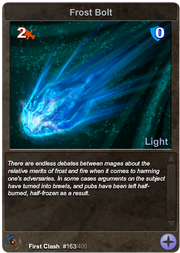 Frost Bolt (First Clash, Legacy Card, #163) is a common Light magic card with 2 attack and 0 defense.
Card Description
There are endless debates between mages about the relative merits of frost and fire when it comes to harming one's adversaries. In some cases arguments on the subject have turned into brawls and pubs have been left half-burned, half-frozen as a result.
How to Obtain
Other Versions
Edit
Ad blocker interference detected!
Wikia is a free-to-use site that makes money from advertising. We have a modified experience for viewers using ad blockers

Wikia is not accessible if you've made further modifications. Remove the custom ad blocker rule(s) and the page will load as expected.