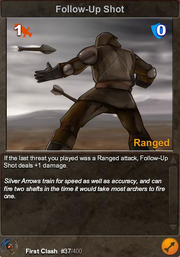 Follow-Up Shot (First Clash, Legacy Card, #37) is a common Ranged weapon card with 1 attack and 0 defense.
Card Effect
If the last threat you played was a Ranged attack, Follow-Up Shot deals +1 damage.
Card Description
Silver Arrows train for speed as well as accuracy, and can fire two shafts in the time it would take most archers to fire one.
How to Obtain
Used in Crafting
Edit
Other Versions
Edit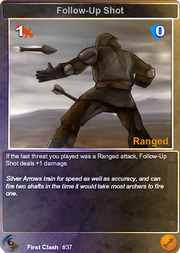 Ad blocker interference detected!
Wikia is a free-to-use site that makes money from advertising. We have a modified experience for viewers using ad blockers

Wikia is not accessible if you've made further modifications. Remove the custom ad blocker rule(s) and the page will load as expected.