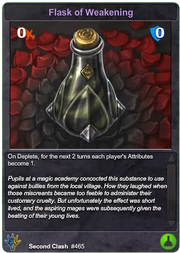 Flask of Weakening (Second Clash, Legacy Card, #465) is a rare Potion card with 0 attack and 0 defense.
Card Effect
On Deplete, for the next 2 turns each player's attributes becomes 1.
Card Description
Pupils at a magic academy concocted this substance to use against bullies from the local village. How they laughed when those miscreants became to feeble to administer their cruelty. But unfortunately the effect was short lived, and the aspiring mages were subsequently given the beating of their young lives.
How to Obtain
Other Versions
Edit
Ad blocker interference detected!
Wikia is a free-to-use site that makes money from advertising. We have a modified experience for viewers using ad blockers

Wikia is not accessible if you've made further modifications. Remove the custom ad blocker rule(s) and the page will load as expected.