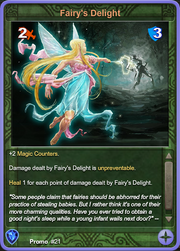 Fairy's Delight (Promo, Legacy Card, #21) is an epic Light magic card with 2 attack and 3 defense.
Card Effect
+2 Magic Counters.
Damage dealt by Fairy's Delight is unpreventable.
Heal 1 for each point of damage dealt by Fairy's Delight.
Card Description
"Some people claim that fairies should be abhorred for their practice of stealing babies. But I rather think it's one of their more charming qualities. How you ever try to obtain a good night's sleep while a young infant wails next door?" - Rudium the Ruminator
How to Obtain
Other Versions
Edit
Ad blocker interference detected!
Wikia is a free-to-use site that makes money from advertising. We have a modified experience for viewers using ad blockers

Wikia is not accessible if you've made further modifications. Remove the custom ad blocker rule(s) and the page will load as expected.