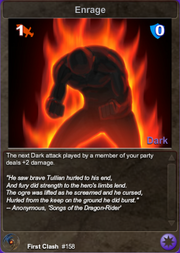 Enrage (First Clash, Legacy Card, #158) is a common Dark magic card with 1 attack and 0 defense.
Card Effect
The next Dark attack played by a member of your party deals +2 damage.
Card Description
"He saw brave Tullian hurled to his end,
And fury did strength to the hero's limbs lend.
The ogre was lifted as he screamed and he cursed,
Hurled from the keep on the ground he did burst."
- Anonymous, 'Songs of the Dragon-Rider'
How to Obtain
Ad blocker interference detected!
Wikia is a free-to-use site that makes money from advertising. We have a modified experience for viewers using ad blockers

Wikia is not accessible if you've made further modifications. Remove the custom ad blocker rule(s) and the page will load as expected.