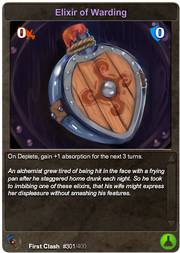 Elixir of Warding (First Clash, Legacy Card, #301) is a rare Potion card with 0 attack and 0 defense.
Card Effect
On Deplete, gain +1 absorption for the next 3 turns.
Card Description
An alchemist grew tired of being hit in the face with a frying pan after staggered home drunk each night. So he took to imbibing one of these elixirs, that his wife might express her displeasure without smashing his features.
How to Obtain
Used in Crafting
Edit
Ad blocker interference detected!
Wikia is a free-to-use site that makes money from advertising. We have a modified experience for viewers using ad blockers

Wikia is not accessible if you've made further modifications. Remove the custom ad blocker rule(s) and the page will load as expected.