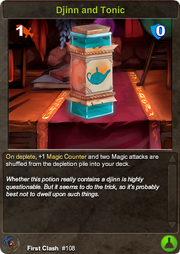 Djinn and Tonic (First Clash, Legacy Card, #108) is an uncommon Potion card with 1 attack and 0 defense.
Card Effect
On deplete, +1 Magic Counter and two Magic Attacks are shuffled from the depletion pile into your deck.
Card Description
Whether this potion really contains a djinn is highly questionable. But it seems to do the trick, so it's probably best not to dwell upon such things.
How to Obtain
Used in Crafting
Edit
Ad blocker interference detected!
Wikia is a free-to-use site that makes money from advertising. We have a modified experience for viewers using ad blockers

Wikia is not accessible if you've made further modifications. Remove the custom ad blocker rule(s) and the page will load as expected.