Dido Celwer Bloodwyn (First Clash, Legacy Card, #321) is a legendary Human NPC card with 2 attack and 6 defense.
Card Effect
When Dido Celwer Bloodwyn is depleted, the next time you would lose the battle during your opponent's turn you will instead survive until your next turn.
Card Description
Inspired by tales of an ancestor who fought alongside the Dragon-Rider of Burden's Rest, Dido Celwer Bloodwyn shunned the soft life of a noblewoman in favor of mastering the blade and protecting the weak.
How to Obtain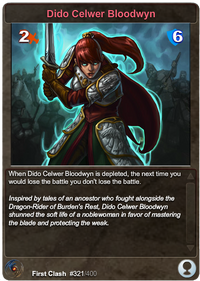 Other Versions
Edit
Ad blocker interference detected!
Wikia is a free-to-use site that makes money from advertising. We have a modified experience for viewers using ad blockers

Wikia is not accessible if you've made further modifications. Remove the custom ad blocker rule(s) and the page will load as expected.