Darius' Haste Potion (First Clash, Legacy Card, #303) is an epic Potion card with 0 attack and 0 defense.
Card Effect
On Deplete, for the next 3 turns you play an additional threat if you have one in your hand.
Card Description
Archmage Darius' haste spell became an instant favorite among adventurers, who relished being able to attack twice as fast. It's only recently that a descendant of his managed to replicate it in potion form.
How to Obtain
Basic Packs
Advanced Packs
Bronze
Platinum
Silver
Diamond
Gold
Mystery
Draft Exclusive
Draft
Special Pack
Sale Item / Chest
Win From Battle Only
Specific Crafting
Zone:
N/A
Craft Section:
Packs or Other
Monster:
N/A
Materials:
2 Mythic Chalice

OR

Temporarily From A Card
Other Versions
Edit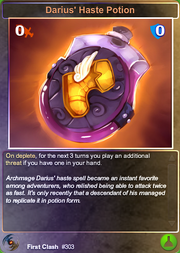 Ad blocker interference detected!
Wikia is a free-to-use site that makes money from advertising. We have a modified experience for viewers using ad blockers

Wikia is not accessible if you've made further modifications. Remove the custom ad blocker rule(s) and the page will load as expected.