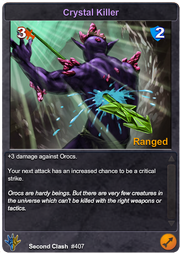 Crystal Killer (Second Clash, Legacy Card, #407) is a rare Ranged weapon card with 3 attack and 2 defense.
Card Effect
+3 damage against Orocs.
Your next attack has a +35% chance to be a critical strike.
Card Description
Orocs are hardy beings. But there are very few creatures in the universe which can't be killed with the right weapons or tactics.
How to Obtain
Used in Crafting
Edit
Other Versions
Edit
Ad blocker interference detected!
Wikia is a free-to-use site that makes money from advertising. We have a modified experience for viewers using ad blockers

Wikia is not accessible if you've made further modifications. Remove the custom ad blocker rule(s) and the page will load as expected.