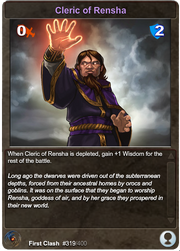 Cleric of Rensha (First Clash, Legacy Card, #319) is a rare Dwarf NPC card with 0 attack and 2 defense.
Card Effect
When Cleric of Rensha is depleted, gain +1 Wisdom for the rest of the battle.
Card Description
Long ago the dwarves were driven out of the subterranean depths, forced from their ancestral homes by orocs and goblins. It was on the surface that they began to worship Rensha, goddes of air, and by her grace they prospered in their new world.
How to Obtain
Ad blocker interference detected!
Wikia is a free-to-use site that makes money from advertising. We have a modified experience for viewers using ad blockers

Wikia is not accessible if you've made further modifications. Remove the custom ad blocker rule(s) and the page will load as expected.