Clash of the Dragons (Widely known as CotD) is a online card game from the developers at
5th Planet
.
Its an RPG style card game, with the ability to gain levels, earn gold and complete quests. The player has a choice of 4 Classes: Assassin, Druid, Sentinel, and Pyrelord; each having their own strengths and weaknesses. Additional classes can be unlocked by gaining levels and purchasing the class with the use of Skill Points.
The story takes place after Dawn of the Dragons, another web-based RPG developed by 5th Planet. You're from a royal family known as Kasan, you were forced out of your home in West Kruna, by the current king, Crenus. After moving to East Kruna, un-expected events cause you to return home, and that is where the story begins.
The game has many features including a Story/Quest mode, PvP, Brawls(Multiplayer Raids), Crafting, and a Shop.
CotD is currently in BETA, and has only been online for a few years. Even with that being said, CotD has a very large population, a very active and helpful forum, and dedicated developers and administrators. The game Updates weekly on Thursday 12:00:00 PST/PDT(which is 20:00:00 or 21:00:00) but can update at a different time, which the developers will announce ahead of time.
The End...
Edit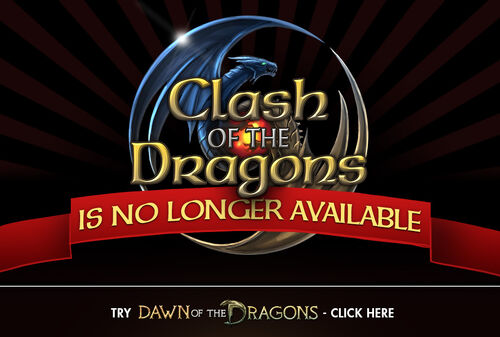 The game officially closed on Thursday October 30th, 2014 at 12 PM Pacific Standard Time (which had become the usual update time).
Ad blocker interference detected!
Wikia is a free-to-use site that makes money from advertising. We have a modified experience for viewers using ad blockers

Wikia is not accessible if you've made further modifications. Remove the custom ad blocker rule(s) and the page will load as expected.