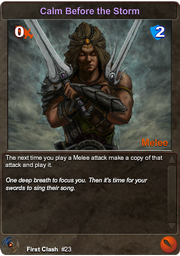 Calm Before the Storm (First Clash, Legacy Card, #23) is a rare Melee weapon card with 0 attack and 2 defense.
Card Effect
The next time you play a Melee attack make a copy of that attack and play it.
Card Description
One deep breath to focus you. Then it's time for your swords to sing their song.
How to Obtain
Card Analysis
Edit
Note: Card analysis is done by players and not official content of the game. Players may regard this as opinion.

Calm before the storm is a useful card to improve purity in melee decks, and is widely used among all kinds of players. Cards that give significant effects are usually played after this card, such as Blades of Glory, Soul-Render and Lotus Fist. By playing this card repeatedly the card-copying bonus will accumulate as well. Rewlf2 07:49, March 13, 2012 (UTC)
Used in Crafting
Edit
Other Versions
Edit
Ad blocker interference detected!
Wikia is a free-to-use site that makes money from advertising. We have a modified experience for viewers using ad blockers

Wikia is not accessible if you've made further modifications. Remove the custom ad blocker rule(s) and the page will load as expected.