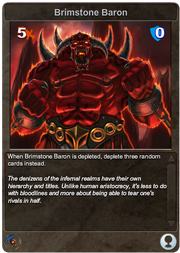 Brimstone Baron is an enemy-only Demon NPC card with 5 attack and 0 defense.
Card Effect
When Brimstone Baron is depleted by an attack, deplete three random cards instead.
Card Description
The denizens of the infernal realms have their own hierarchy and titles. Unlike human aristocracy, it's less to do with bloodlines and more about being able to tear one's rivals in half.
Ad blocker interference detected!
Wikia is a free-to-use site that makes money from advertising. We have a modified experience for viewers using ad blockers

Wikia is not accessible if you've made further modifications. Remove the custom ad blocker rule(s) and the page will load as expected.