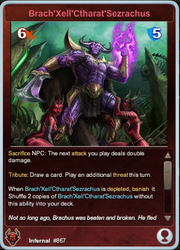 Brach'Xell'Ctharat'Sezrachus (Infernal, Legacy Card, #867) is a legendary Demon NPC card with 6 attack and 5 defense.
Card Effect
Sacrifice NPC: The next attack you play deals double damage.
Tribute: Draw a card. Play an additional threat this turn.
When Brach'Xell'Ctharat'Sezrachus is depleted, banish it. Shuffle 2 copies of Brach'Xell'Ctharat'Sezrachus wihout this ability into your deck.
Card Description
Not so long ago, Brachus was beaten and broken. He fled for his life, his minions stolen and his kingdom lost, and was forced to take shelter in a fat Titaran pie man's body.
But now...
Now the prince has returned, and the infernal realm will once more ring with the name of Brach'Xell'Ctharat'Sezrachus.
How to Obtain
Other Versions
Edit
Ad blocker interference detected!
Wikia is a free-to-use site that makes money from advertising. We have a modified experience for viewers using ad blockers

Wikia is not accessible if you've made further modifications. Remove the custom ad blocker rule(s) and the page will load as expected.