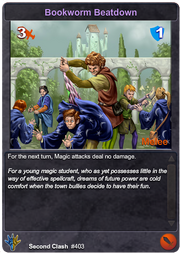 Bookworm Beatdown (Second Clash, Legacy Card, #403) is a rare Melee weapon card with 3 attack and 1 defense.
Card Effect
For the next turn, Magic attacks deal no damage.
Card Description
For a young magic student, who as yet possesses little in the way of effective spellcraft, dreams of future power are cold comfort when the town bullies decide to have their fun.
How to Obtain
Ad blocker interference detected!
Wikia is a free-to-use site that makes money from advertising. We have a modified experience for viewers using ad blockers

Wikia is not accessible if you've made further modifications. Remove the custom ad blocker rule(s) and the page will load as expected.