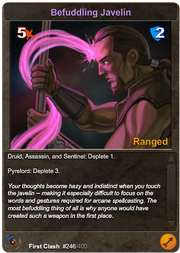 Befuddling Javelin (First Clash, Legacy Card, #246) is a rare Ranged weapon card with 5 attack and 2 defense.
Card Effect
Druid, Assassin, and Sentinel: Deplete 1.
Pyrelord: Deplete 3.
Card Description
Your thoughts become hazy and indistinct when you touch the javelin - making it especially difficult to focus on the words and gestures required for arcane spellcasting. The most befuddling thing of all is why anyone would have created such a weapon in the first place.
How to Obtain
Other Versions
Edit
Ad blocker interference detected!
Wikia is a free-to-use site that makes money from advertising. We have a modified experience for viewers using ad blockers

Wikia is not accessible if you've made further modifications. Remove the custom ad blocker rule(s) and the page will load as expected.