Barbed Broach (Second Clash, Legacy Card, #472) is a rare Talisman card with 0 attack and 0 defense.
Card Effect
While in Library, threats you play gain "Deplete 1".
If a threat you play deals damage, you have a 15% chance to increase a random attribute.
Card Description
Sharp prongs of metal bite into your flesh, drawing your blood. You hope the talisman's power is worth the discomfort...
How to Obtain
Other Versions
Edit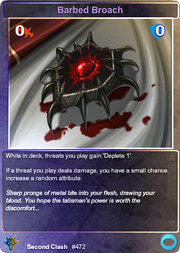 Ad blocker interference detected!
Wikia is a free-to-use site that makes money from advertising. We have a modified experience for viewers using ad blockers

Wikia is not accessible if you've made further modifications. Remove the custom ad blocker rule(s) and the page will load as expected.